Several different models are available to suit different situations. They are best suited to use on flat level ground and are widely used in Hospitals, Airports, Fabrication Plants and numerous industrial applications.
Large tow tractors may have the capability to carry heavy loads, carry people or just to tow heavy loads. Tow tractors also vary in size, as well as caring capacity and towing capacity, you should look at the tow tractors specification on the capacity plate before using any tow Tractor.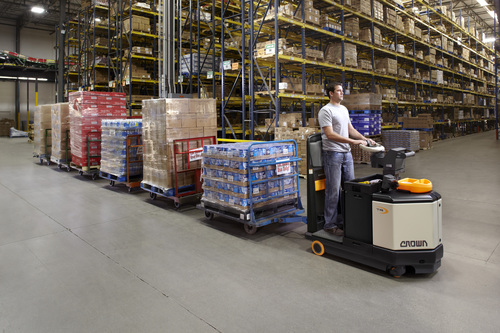 Introduction & Aims
The Health & Safety at Work Act 1974
The Provision & Use of Work Equipment Reg 1998 (PUWER)
The Lifting Operations & Lifting Equipment Regs 1998 (LOLER)
Tow Tractor stability and instability
Operator's safety Video
Pre-Use Checks & Maintenance of the Tow Tractor
Refueling procedures / Battery charging procedures
Introduction to the Tow Tractor and use of controls
Safe Operating Methods, Hazards & Manoeuvring
Safe Operating in confined spaces
Connecting and disconnecting the towing mechanism
Manoeuvring when towing a load
Theory Test
Practical Assessment
Course Evaluation
A fully comprehensive course aimed at people who have had little or no previous experience with pedestrian operated industrial trucks.
Novice Course Length
1 Novice Candidate
2 Novice Candidates
3 Novice Candidates
1 Days
2 Days
2 Days
A course tailored to those with experience in driving pedestrian operated industrial trucks however, they do not hold any formal training qualifications.
Experienced Course Length
1 Experienced Candidate
2 Experienced Candidates
3 Experienced Candidates
1 Days
1.5 Days
2 Days
A short course designed for those with qualifications and they have completed a formal training course.
Refresher Course Length
1 Refresher Candidate
2 Refresher Candidates
3 Refresher Candidates
1 Day
1 Day
1 Day
Conversion training is provided where there is a variation to the configuration of the controls and functions from the truck types used by the operator.
Conversion Course Length
1 Conversion Candidate
2 Conversion Candidates
3 Conversion Candidates
1 Day
1 Days
1 Days
Specific Job Training and or Familiarisation Training
We can provide either specific job training or familiarisation training the duration and cost will depend on the particular company or individuals requirements.
People given the responsibility of operating tow tugs should attend this course to comply with PUWER 1998 and HASAWA 1974
On completion of the course, each delegate will have a working knowledge of relevant legislation and will be fully conversant in the Safe & Proper Use of the tow tug equipment.
Courses are compliant with UK Health & Safety, PUWER & LOLER regulations as applicable.
Don't delay, book your training course today!
Call us on 0800 677 11 20 or use our handy contact form.
BOOK NOW