Manual Handling what is it?
Movement or support of any load by physical effort: Lifting, putting down, pushing, pulling, carrying. This includes using mechanical aids, such as trucks or trolleys and includes moving live loads etc.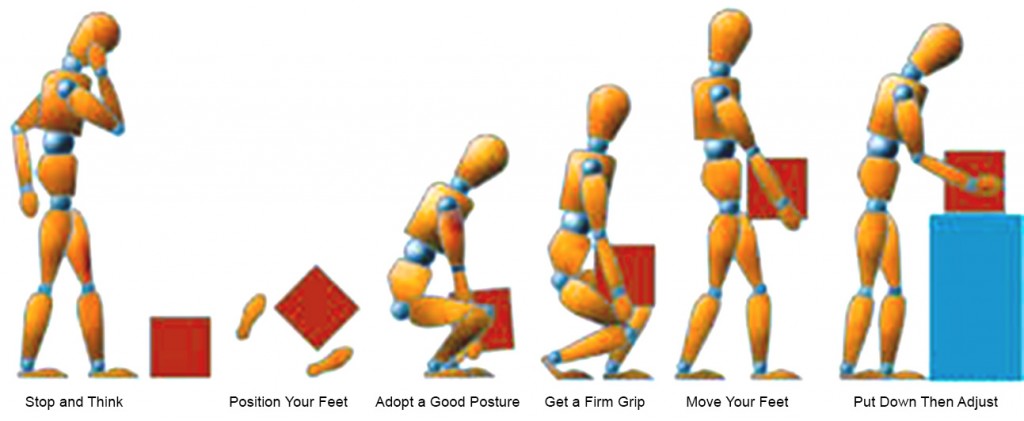 The Health & Safety at Work Act 1974 (HSW ACT)
The Provision & Use of Work Equipment Reg 1998 (PUWER)
Management of Health & Safety at Work Regulations1992
What constitutes a Manual Handling?
Manual Handling injuries
Kinetic Lifting Main Features
Good Handling Techniques
Team Handling
Classroom & Practical Demonstrations and Exercises
Understanding the correct methods behind manually lifting and moving items
Making a simple risk assessment before manually handling any object
Consider whether using a mechanical aid, would be more appropriate
To minimise that risk of accidents and injuries to its lowest level
Recognising & Assessing a Manual Handling Task
Theoretical knowledge assessment
Practical Training & Assessment
A fully comprehensive course aimed at people with or without any previous experience in using manual handling techniques.
Course Length
Up to 6 Candidates
0.5 Days
Manual Handling Awareness training courses are aimed at all personnel who use manual handling techniques as part of their everyday duties.
Candidates should be reasonable fit and articulate.
On completion of the course, each delegate will have a working knowledge of relevant legislation and will be fully conversant in the Safe & Proper Use of Manual Handling Techniques.
Half day course
Six delegates per course (Maximum 12 delegates per day)
Courses are compliant with UK Health & Safety, PUWER & LOLER regulations as applicable
Don't delay, book your training course today!
Call us on 0800 677 11 20 or use our handy contact form.
BOOK NOW