The Reach Truck is mainly used in warehousing as it can be used in a much narrower aisle than a counterbalance, this allows more racking to be fitted in a warehouse giving greater storage space reach trucks are designed to be used on smooth level floors.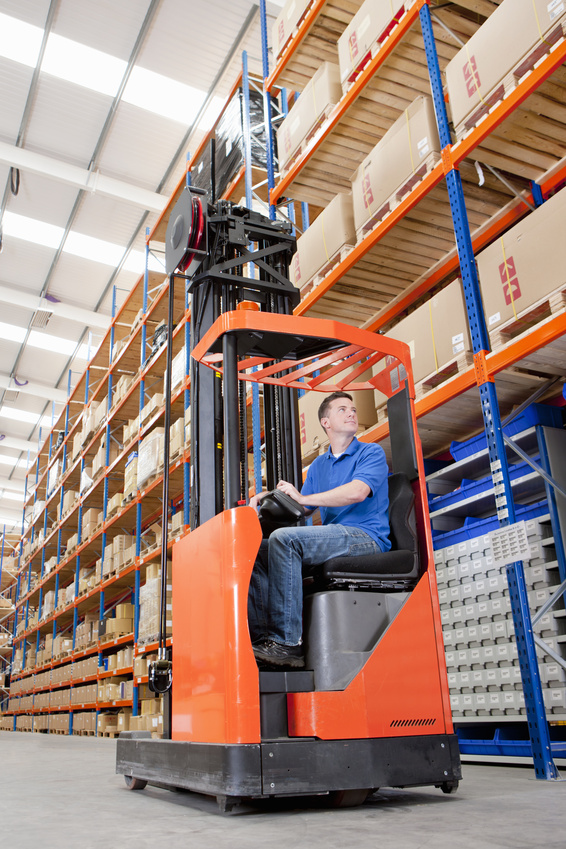 Introduction & Aims
The Health & Safety at Work Act 1974
The Provision & Use of Work Equipment Reg 1998 (PUWER)
The Lifting Operations & Lifting Equipment Regs 1998 (LOLER)
Forklift truck stability and instability
Operator's safety Video
Pre-Use Checks & Maintenance of the forklift truck
Refueling procedures / Battery charging procedures
Introduction to the forklift and use of controls
Safe Operating Methods, Hazards & Manoeuvring
Safe Operating in confined spaces
Stacking and de-stacking in Industrial Racking
Bulk Stacking & Lorry Loading
Theory Test
Practical Assessment
Course Evaluation
Course Price:
Price On Application
Candidate Benefits:
Candidates can be entered onto the RTITB (National Operators Registration Scheme) for a period of 3 years
Course Location:
Eastleigh Hampshire or Client Premises (Nationwide)
Machine Sizes:
Up to 2.5 tonnes
A fully comprehensive course aimed at people who have had no previous experience with industrial trucks.
Novice Course Length
1 Novice Candidate
2 Novice Candidates
3 Novice Candidates
3 Days
4 Days
5 Days
A course tailored to those with experience in driving trucks however do not have official qualifications.
Experienced Course Length
1 Experienced Candidate
2 Experienced Candidates
3 Experienced Candidates
2 Days
3 Days
3 Days
A short course designed for those with qualifications and they have completed a formal training course.
Refresher Course Length
1 Refresher Candidate
2 Refresher Candidates
3 Refresher Candidates
1 Day
1 Day
1 Day
Conversion training is provided where there is a variation to the configuration of the controls and functions from the truck types used by the operator.
Conversion Course Length
1 Conversion Candidate
2 Conversion Candidates
3 Conversion Candidates
1 Day
2 Days
2 Days
Specific Job Training and or Familiarisation Training
We can provide either specific job training or familiarisation training the duration and cost will depend on the particular company or individuals requirements.
Don't delay, book your training course today!
Call us on 0800 677 11 20 or use our handy contact form.
BOOK NOW