The Vehicle Mounted Boom Lift is ideal roadside access and long distance travel between sites. This is a very versatile mobile elevated work platform (MEWP). It is used to gain access to elevated locations outside the base or the transport vehicle, to areas that are high and often inaccessible from a ladder. The basket provides a safe platform to work from.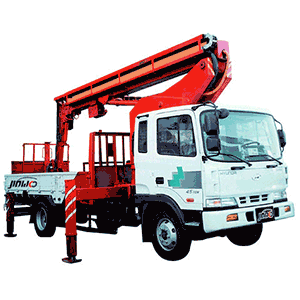 Introduction & Aims
The Health & Safety at Work Act 1974
The Provision & Use of Work Equipment Reg 1998 (PUWER)
The Lifting Operations & Lifting Equipment Regs 1998 (LOLER)
The pre-use inspection of the MEWPs truck
Introduction to the MEWPs and use of controls
Pre-use Checks & Maintenance of the forklift truck
Classroom & practical demonstrations and exercises
Theoretical Assessment
Practical Training & Assessment
Theoretical & practical knowledge to safely operate a MEWP
Operating procedures; maneuvering, from the platform and from the ground
Health & safety awareness
Stability & siting the MEWP
Operators safety code
Motive & hydraulic controls
Operating in confined spaces
Refueling procedures
Battery charging procedures
Pre-use checks
Telescopic, articulating functions & slewing functions (as applicable)
Course Price:
Price On Application
Candidate Benefits:
Candidates can be entered onto the RTITB (National Operators Registration Scheme) for a period of 3 years
Course Location:
Eastleigh Hampshire or Client Premises (Nationwide)
Machine Types:
Scissor Lift or Boom Lift

A fully comprehensive course aimed at people who have had little or no previous experience in operating Mobile Elevated Work Platforms.
Novice Course Length
1 Novice Candidate
2 Novice Candidates
3 Novice Candidates
1 Day
1.5 Days
2 Days
A course tailored to those with experience in driving Mobile Elevated Work Platforms however, they do not hold any formal training qualifications.
Experienced Course Length
1 Experienced Candidate
2 Experienced Candidates
3 Experienced Candidates
1 Day
1 Day
1.5 Days
A short course designed for those with qualifications and they have completed a formal training course.
Refresher Course Length
1 Refresher Candidate
2 Refresher Candidates
3 Refresher Candidates
1 Day
1 Day
1 Day
Conversion training is provided where there is a variation to the configuration of the controls and functions from the truck types used by the operator.
Conversion Course Length
1 Conversion Candidate
2 Conversion Candidates
3 Conversion Candidates
1 Day
1 Day
1.5 Days
Specific Job Training and or Familiarisation Training
We can provide either specific job training or familiarisation training the duration and cost will depend on the particular company or individuals requirements.
Don't delay, book your training course today!
Call us on 0800 677 11 20 or use our handy contact form.
BOOK NOW